The Mini Robodog From Boston Dynamics Can Now Open Doors to Get Out
SpotMini, Boston Dynamics's dog-like quadruped robot, is back, and it's learned a new trick.
The robot, which was unveiled in June 2016 and then updated in November 2017, can now open doors and hold them open.
While opening a door is slightly old hat for a Boston Dynamics robot – Atlas barrelled through a push-bar door two years ago – SpotMini's operation is more fluid.
The robot uses its fifth appendage, an arm mounted essentially where a canine's head would be, to swiftly assess the door, locate and twist the handle, and pull the door open.
In a video released by Boston Dynamics, not only does the new-and-improved SpotMini open the door for itself, it even holds it open for its robot colleague.
A portrait of professional collegiality, this is a big step up from the solo activities of washing dishes or rolling over.
2016 SpotMini loading the dishwasher (BostonDynamics/YouTube)
Boston Dynamics has made steady progress in their efforts to build robots that move in a life-like manner, whether it's Atlas' Homo sapiens-like saunter or SpotMini's four-legged gallop.
The same month they debuted their updated SpotMini, the company made headlines by releasing a video showing their Atlas robot's back-flipping antics.
The SpotMini's latest development is confirmation that progress continues to march on behind Boston Dynamics's doors.
But while biomimetic robots are certainly useful – the ability to copy human motion enables these robots to dexterously manipulate objects and navigate complex terrain – they still inspire more fear than awe in many people.
Outlets such as The Verge and Popular Mechanics have noted the similarities between SpotMini and the door-opening velociraptors of Jurassic Park splendour – not exactly a calming comparison, so if you envision these robots taking over the world, you're not alone.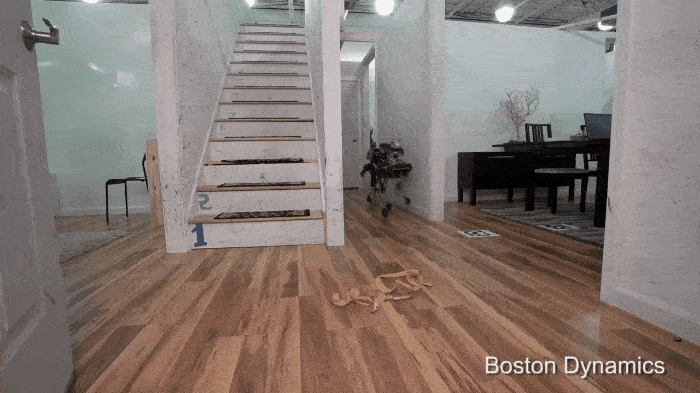 Source: sciencealert.com